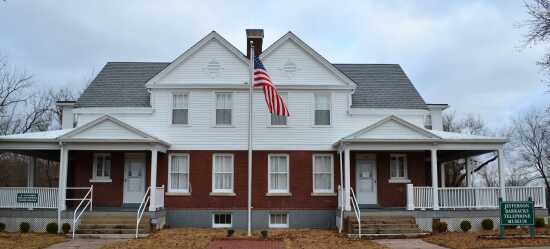 Past:

Cellular Telephone Exhibit - Jefferson Barracks Telephone Museum
Jefferson Barracks Telephone Museum
Bag Phones, Brick Phones, Blackberries, a Satellite Phone and more – these are some of the cellular telephones you'll see at the Jefferson Barracks Telephone Museum.
Housed in a restored 1896 building, the history museum also features an extensive collection of telephones manufactured from the late 1800s through the 2010s, hundreds of pieces of telephone-related equipment, memorabilia from 1880s through the 2000s and military telephones from WWI through the Gulf War. It is located in the historic Jefferson Barracks Park.
The museum has many hands-on, how-things-work exhibits which were created to inspire an interest in engineering and history.
Past Dates & Times
Saturday, February 11, 2023, 9:00 am - 2:00 pm
Sunday, February 12, 2023, 9:00 am - 2:00 pm
Saturday, February 18, 2023, 9:00 am - 2:00 pm
Sunday, February 19, 2023, 9:00 am - 2:00 pm
Saturday, February 25, 2023, 9:00 am - 2:00 pm
Sunday, February 26, 2023, 9:00 am - 2:00 pm
Saturday, March 11, 2023, 9:00 am - 2:00 pm
Sunday, March 12, 2023, 9:00 am - 2:00 pm
Saturday, March 25, 2023, 9:00 am - 2:00 pm
Sunday, March 26, 2023, 9:00 am - 2:00 pm
Saturday, April 8, 2023, 9:00 am - 2:00 pm
Sunday, April 9, 2023, 9:00 am - 2:00 pm
Saturday, April 22, 2023, 9:00 am - 2:00 pm
Sunday, April 23, 2023, 9:00 am - 2:00 pm
Saturday, May 6, 2023, 9:00 am - 2:00 pm
Sunday, May 7, 2023, 9:00 am - 2:00 pm
Saturday, May 13, 2023, 9:00 am - 2:00 pm
Sunday, May 21, 2023, 9:00 am - 2:00 pm
Saturday, May 27, 2023, 9:00 am - 2:00 pm
Sunday, May 28, 2023, 9:00 am - 2:00 pm