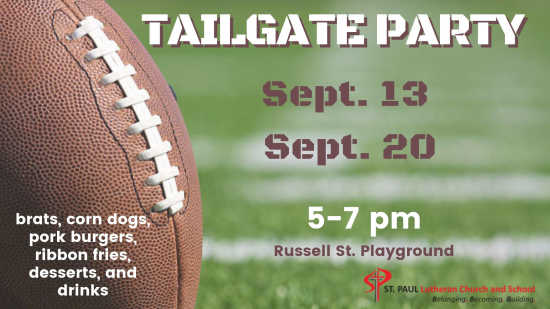 Past:

Tailgate Party at St. Paul (Cheer on the Jackson Indians)
St. Paul Lutheran School
Join us on the Russell Street playground (in front of St. Paul Lutheran School) from 5-7 p.m. on your way to cheer on the Jackson Indians at their home games.
Menu includes pork burgers, brats, corn dogs, ribbon fries, homemade desserts and drinks.
Bring the entire family for food, fellowship, and fun, and at the same time, help support the Music Department and the Mission Team.
Past Dates & Times
Friday, September 13, 2019, 5:00 pm - 7:00 pm
Friday, September 20, 2019, 5:00 pm - 7:00 pm

Map
St. Paul Lutheran School
216 S. Russell St, Jackson, MO 63755