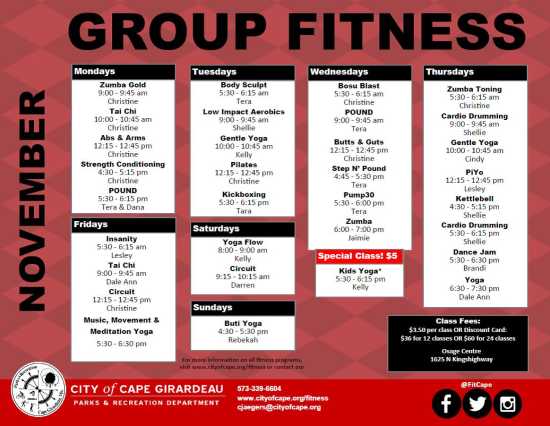 Past:

Low-impact fitness classes: Gentle Yoga, Zumba Gold, low-impact aerobics, POUND, Cardio Drumming & Tai Chi
Osage Centre
Regular Physical Activity is one of the most important things you can do for your health!
The City of Cape Girardeau Parks & Recreation has tons of great options for you! We have over 15 different Group Fitness classes available each week held at the Osage Centre. We have a wide variety of classes for all levels and ages!
Check out the full schedule here: www.cityofcape.org/fitness
Low Impact Classes is a great way to start your journey! We have the following classes each week from 9-9:45am at the Osage Centre:
Mondays: Zumba Gold @9AM. Tai Chi @ 10AM.
Tuesday: Low-Impact Aerobics @9AM. Gentle Yoga @ 10AM.
Wednesday: POUND @9AM.
Thursdays: Cardio Drumming @9AM. Gentle Yoga @10AM.
Fridays: Tai Chi @9AM.
Contact Fitness & Wellness Specialist, Christine for more information: cjaegers@cityofcape.org
Past Dates & Times
Tuesday, November 6, 2018, 9:00 am - 11:00 am
Wednesday, November 7, 2018, 9:00 am - 11:00 am
Thursday, November 8, 2018, 9:00 am - 11:00 am
Friday, November 9, 2018, 9:00 am - 11:00 am
Monday, November 12, 2018, 9:00 am - 11:00 am
Tuesday, November 13, 2018, 9:00 am - 11:00 am
Wednesday, November 14, 2018, 9:00 am - 11:00 am
Thursday, November 15, 2018, 9:00 am - 11:00 am
Friday, November 16, 2018, 9:00 am - 11:00 am
Monday, November 19, 2018, 9:00 am - 11:00 am
Tuesday, November 20, 2018, 9:00 am - 11:00 am
Wednesday, November 21, 2018, 9:00 am - 11:00 am
Thursday, November 22, 2018, 9:00 am - 11:00 am
Friday, November 23, 2018, 9:00 am - 11:00 am
Monday, November 26, 2018, 9:00 am - 11:00 am
Tuesday, November 27, 2018, 9:00 am - 11:00 am
Wednesday, November 28, 2018, 9:00 am - 11:00 am
Thursday, November 29, 2018, 9:00 am - 11:00 am
Friday, November 30, 2018, 9:00 am - 11:00 am
Monday, December 3, 2018, 9:00 am - 11:00 am
Tuesday, December 4, 2018, 9:00 am - 11:00 am
Wednesday, December 5, 2018, 9:00 am - 11:00 am
Thursday, December 6, 2018, 9:00 am - 11:00 am
Friday, December 7, 2018, 9:00 am - 11:00 am
Monday, December 10, 2018, 9:00 am - 11:00 am
Tuesday, December 11, 2018, 9:00 am - 11:00 am
Wednesday, December 12, 2018, 9:00 am - 11:00 am
Thursday, December 13, 2018, 9:00 am - 11:00 am
Friday, December 14, 2018, 9:00 am - 11:00 am
Monday, December 17, 2018, 9:00 am - 11:00 am
Tuesday, December 18, 2018, 9:00 am - 11:00 am
Wednesday, December 19, 2018, 9:00 am - 11:00 am
Thursday, December 20, 2018, 9:00 am - 11:00 am
Friday, December 21, 2018, 9:00 am - 11:00 am
Monday, December 24, 2018, 9:00 am - 11:00 am
Tuesday, December 25, 2018, 9:00 am - 11:00 am
Wednesday, December 26, 2018, 9:00 am - 11:00 am
Thursday, December 27, 2018, 9:00 am - 11:00 am
Friday, December 28, 2018, 9:00 am - 11:00 am
Monday, December 31, 2018, 9:00 am - 11:00 am
Tuesday, January 1, 2019, 9:00 am - 11:00 am
Wednesday, January 2, 2019, 9:00 am - 11:00 am
Thursday, January 3, 2019, 9:00 am - 11:00 am
Friday, January 4, 2019, 9:00 am - 11:00 am
Monday, January 7, 2019, 9:00 am - 11:00 am
Tuesday, January 8, 2019, 9:00 am - 11:00 am
Wednesday, January 9, 2019, 9:00 am - 11:00 am
Thursday, January 10, 2019, 9:00 am - 11:00 am
Friday, January 11, 2019, 9:00 am - 11:00 am
Monday, January 14, 2019, 9:00 am - 11:00 am
Tuesday, January 15, 2019, 9:00 am - 11:00 am
Wednesday, January 16, 2019, 9:00 am - 11:00 am
Thursday, January 17, 2019, 9:00 am - 11:00 am
Friday, January 18, 2019, 9:00 am - 11:00 am
Monday, January 21, 2019, 9:00 am - 11:00 am
Tuesday, January 22, 2019, 9:00 am - 11:00 am
Wednesday, January 23, 2019, 9:00 am - 11:00 am
Thursday, January 24, 2019, 9:00 am - 11:00 am
Friday, January 25, 2019, 9:00 am - 11:00 am
Monday, January 28, 2019, 9:00 am - 11:00 am
Tuesday, January 29, 2019, 9:00 am - 11:00 am
Wednesday, January 30, 2019, 9:00 am - 11:00 am
Thursday, January 31, 2019, 9:00 am - 11:00 am
Friday, February 1, 2019, 9:00 am - 11:00 am
Monday, February 4, 2019, 9:00 am - 11:00 am
Tuesday, February 5, 2019, 9:00 am - 11:00 am
Wednesday, February 6, 2019, 9:00 am - 11:00 am
Thursday, February 7, 2019, 9:00 am - 11:00 am
Friday, February 8, 2019, 9:00 am - 11:00 am
Monday, February 11, 2019, 9:00 am - 11:00 am
Tuesday, February 12, 2019, 9:00 am - 11:00 am
Wednesday, February 13, 2019, 9:00 am - 11:00 am
Thursday, February 14, 2019, 9:00 am - 11:00 am
Friday, February 15, 2019, 9:00 am - 11:00 am
Monday, February 18, 2019, 9:00 am - 11:00 am
Tuesday, February 19, 2019, 9:00 am - 11:00 am
Wednesday, February 20, 2019, 9:00 am - 11:00 am
Thursday, February 21, 2019, 9:00 am - 11:00 am
Friday, February 22, 2019, 9:00 am - 11:00 am
Monday, February 25, 2019, 9:00 am - 11:00 am
Tuesday, February 26, 2019, 9:00 am - 11:00 am
Wednesday, February 27, 2019, 9:00 am - 11:00 am
Thursday, February 28, 2019, 9:00 am - 11:00 am
Friday, March 1, 2019, 9:00 am - 11:00 am
Monday, March 4, 2019, 9:00 am - 11:00 am
Tuesday, March 5, 2019, 9:00 am - 11:00 am
Wednesday, March 6, 2019, 9:00 am - 11:00 am
Thursday, March 7, 2019, 9:00 am - 11:00 am
Friday, March 8, 2019, 9:00 am - 11:00 am
Monday, March 11, 2019, 9:00 am - 11:00 am
Tuesday, March 12, 2019, 9:00 am - 11:00 am
Wednesday, March 13, 2019, 9:00 am - 11:00 am
Thursday, March 14, 2019, 9:00 am - 11:00 am
Friday, March 15, 2019, 9:00 am - 11:00 am
Monday, March 18, 2019, 9:00 am - 11:00 am
Tuesday, March 19, 2019, 9:00 am - 11:00 am
Wednesday, March 20, 2019, 9:00 am - 11:00 am
Thursday, March 21, 2019, 9:00 am - 11:00 am
Friday, March 22, 2019, 9:00 am - 11:00 am
Monday, March 25, 2019, 9:00 am - 11:00 am
Tuesday, March 26, 2019, 9:00 am - 11:00 am
Wednesday, March 27, 2019, 9:00 am - 11:00 am
Thursday, March 28, 2019, 9:00 am - 11:00 am
Friday, March 29, 2019, 9:00 am - 11:00 am
Monday, April 1, 2019, 9:00 am - 11:00 am
Tuesday, April 2, 2019, 9:00 am - 11:00 am
Wednesday, April 3, 2019, 9:00 am - 11:00 am
Thursday, April 4, 2019, 9:00 am - 11:00 am
Friday, April 5, 2019, 9:00 am - 11:00 am
Monday, April 8, 2019, 9:00 am - 11:00 am
Tuesday, April 9, 2019, 9:00 am - 11:00 am
Wednesday, April 10, 2019, 9:00 am - 11:00 am
Thursday, April 11, 2019, 9:00 am - 11:00 am
Friday, April 12, 2019, 9:00 am - 11:00 am
Monday, April 15, 2019, 9:00 am - 11:00 am
Tuesday, April 16, 2019, 9:00 am - 11:00 am
Wednesday, April 17, 2019, 9:00 am - 11:00 am
Thursday, April 18, 2019, 9:00 am - 11:00 am
Friday, April 19, 2019, 9:00 am - 11:00 am
Monday, April 22, 2019, 9:00 am - 11:00 am
Tuesday, April 23, 2019, 9:00 am - 11:00 am
Wednesday, April 24, 2019, 9:00 am - 11:00 am
Thursday, April 25, 2019, 9:00 am - 11:00 am
Friday, April 26, 2019, 9:00 am - 11:00 am
Monday, April 29, 2019, 9:00 am - 11:00 am
Tuesday, April 30, 2019, 9:00 am - 11:00 am
Wednesday, May 1, 2019, 9:00 am - 11:00 am
Thursday, May 2, 2019, 9:00 am - 11:00 am
Friday, May 3, 2019, 9:00 am - 11:00 am
Monday, May 6, 2019, 9:00 am - 11:00 am
Tuesday, May 7, 2019, 9:00 am - 11:00 am
Wednesday, May 8, 2019, 9:00 am - 11:00 am
Thursday, May 9, 2019, 9:00 am - 11:00 am
Friday, May 10, 2019, 9:00 am - 11:00 am
Monday, May 13, 2019, 9:00 am - 11:00 am
Tuesday, May 14, 2019, 9:00 am - 11:00 am
Wednesday, May 15, 2019, 9:00 am - 11:00 am
Thursday, May 16, 2019, 9:00 am - 11:00 am
Friday, May 17, 2019, 9:00 am - 11:00 am
Monday, May 20, 2019, 9:00 am - 11:00 am
Tuesday, May 21, 2019, 9:00 am - 11:00 am
Wednesday, May 22, 2019, 9:00 am - 11:00 am
Thursday, May 23, 2019, 9:00 am - 11:00 am
Friday, May 24, 2019, 9:00 am - 11:00 am
Monday, May 27, 2019, 9:00 am - 11:00 am
Tuesday, May 28, 2019, 9:00 am - 11:00 am
Wednesday, May 29, 2019, 9:00 am - 11:00 am
Thursday, May 30, 2019, 9:00 am - 11:00 am
Friday, May 31, 2019, 9:00 am - 11:00 am
Monday, June 3, 2019, 9:00 am - 11:00 am
Tuesday, June 4, 2019, 9:00 am - 11:00 am
Wednesday, June 5, 2019, 9:00 am - 11:00 am
Thursday, June 6, 2019, 9:00 am - 11:00 am
Friday, June 7, 2019, 9:00 am - 11:00 am
Monday, June 10, 2019, 9:00 am - 11:00 am
Tuesday, June 11, 2019, 9:00 am - 11:00 am
Wednesday, June 12, 2019, 9:00 am - 11:00 am
Thursday, June 13, 2019, 9:00 am - 11:00 am
Friday, June 14, 2019, 9:00 am - 11:00 am
Monday, June 17, 2019, 9:00 am - 11:00 am
Tuesday, June 18, 2019, 9:00 am - 11:00 am
Wednesday, June 19, 2019, 9:00 am - 11:00 am
Thursday, June 20, 2019, 9:00 am - 11:00 am
Friday, June 21, 2019, 9:00 am - 11:00 am
Monday, June 24, 2019, 9:00 am - 11:00 am
Tuesday, June 25, 2019, 9:00 am - 11:00 am
Wednesday, June 26, 2019, 9:00 am - 11:00 am
Thursday, June 27, 2019, 9:00 am - 11:00 am
Friday, June 28, 2019, 9:00 am - 11:00 am
Monday, July 1, 2019, 9:00 am - 11:00 am
Tuesday, July 2, 2019, 9:00 am - 11:00 am
Wednesday, July 3, 2019, 9:00 am - 11:00 am
Thursday, July 4, 2019, 9:00 am - 11:00 am
Friday, July 5, 2019, 9:00 am - 11:00 am
Monday, July 8, 2019, 9:00 am - 11:00 am
Tuesday, July 9, 2019, 9:00 am - 11:00 am
Wednesday, July 10, 2019, 9:00 am - 11:00 am
Thursday, July 11, 2019, 9:00 am - 11:00 am
Friday, July 12, 2019, 9:00 am - 11:00 am
Monday, July 15, 2019, 9:00 am - 11:00 am
Tuesday, July 16, 2019, 9:00 am - 11:00 am
Wednesday, July 17, 2019, 9:00 am - 11:00 am
Thursday, July 18, 2019, 9:00 am - 11:00 am
Friday, July 19, 2019, 9:00 am - 11:00 am
Monday, July 22, 2019, 9:00 am - 11:00 am
Tuesday, July 23, 2019, 9:00 am - 11:00 am
Wednesday, July 24, 2019, 9:00 am - 11:00 am
Thursday, July 25, 2019, 9:00 am - 11:00 am
Friday, July 26, 2019, 9:00 am - 11:00 am
Monday, July 29, 2019, 9:00 am - 11:00 am
Tuesday, July 30, 2019, 9:00 am - 11:00 am
Wednesday, July 31, 2019, 9:00 am - 11:00 am
Thursday, August 1, 2019, 9:00 am - 11:00 am
Friday, August 2, 2019, 9:00 am - 11:00 am
Monday, August 5, 2019, 9:00 am - 11:00 am
Tuesday, August 6, 2019, 9:00 am - 11:00 am
Wednesday, August 7, 2019, 9:00 am - 11:00 am
Thursday, August 8, 2019, 9:00 am - 11:00 am
Friday, August 9, 2019, 9:00 am - 11:00 am
Monday, August 12, 2019, 9:00 am - 11:00 am
Tuesday, August 13, 2019, 9:00 am - 11:00 am
Wednesday, August 14, 2019, 9:00 am - 11:00 am
Thursday, August 15, 2019, 9:00 am - 11:00 am
Friday, August 16, 2019, 9:00 am - 11:00 am
Monday, August 19, 2019, 9:00 am - 11:00 am
Tuesday, August 20, 2019, 9:00 am - 11:00 am
Wednesday, August 21, 2019, 9:00 am - 11:00 am
Thursday, August 22, 2019, 9:00 am - 11:00 am
Friday, August 23, 2019, 9:00 am - 11:00 am
Monday, August 26, 2019, 9:00 am - 11:00 am
Tuesday, August 27, 2019, 9:00 am - 11:00 am
Wednesday, August 28, 2019, 9:00 am - 11:00 am
Thursday, August 29, 2019, 9:00 am - 11:00 am
Friday, August 30, 2019, 9:00 am - 11:00 am
Monday, September 2, 2019, 9:00 am - 11:00 am
Tuesday, September 3, 2019, 9:00 am - 11:00 am
Wednesday, September 4, 2019, 9:00 am - 11:00 am
Thursday, September 5, 2019, 9:00 am - 11:00 am
Friday, September 6, 2019, 9:00 am - 11:00 am
Monday, September 9, 2019, 9:00 am - 11:00 am
Tuesday, September 10, 2019, 9:00 am - 11:00 am
Wednesday, September 11, 2019, 9:00 am - 11:00 am
Thursday, September 12, 2019, 9:00 am - 11:00 am
Friday, September 13, 2019, 9:00 am - 11:00 am
Monday, September 16, 2019, 9:00 am - 11:00 am
Tuesday, September 17, 2019, 9:00 am - 11:00 am
Wednesday, September 18, 2019, 9:00 am - 11:00 am
Thursday, September 19, 2019, 9:00 am - 11:00 am
Friday, September 20, 2019, 9:00 am - 11:00 am
Monday, September 23, 2019, 9:00 am - 11:00 am
Tuesday, September 24, 2019, 9:00 am - 11:00 am
Wednesday, September 25, 2019, 9:00 am - 11:00 am
Thursday, September 26, 2019, 9:00 am - 11:00 am
Friday, September 27, 2019, 9:00 am - 11:00 am
Monday, September 30, 2019, 9:00 am - 11:00 am
Tuesday, October 1, 2019, 9:00 am - 11:00 am
Wednesday, October 2, 2019, 9:00 am - 11:00 am
Thursday, October 3, 2019, 9:00 am - 11:00 am
Friday, October 4, 2019, 9:00 am - 11:00 am
Monday, October 7, 2019, 9:00 am - 11:00 am
Tuesday, October 8, 2019, 9:00 am - 11:00 am
Wednesday, October 9, 2019, 9:00 am - 11:00 am
Thursday, October 10, 2019, 9:00 am - 11:00 am
Friday, October 11, 2019, 9:00 am - 11:00 am
Monday, October 14, 2019, 9:00 am - 11:00 am
Tuesday, October 15, 2019, 9:00 am - 11:00 am
Wednesday, October 16, 2019, 9:00 am - 11:00 am
Thursday, October 17, 2019, 9:00 am - 11:00 am
Friday, October 18, 2019, 9:00 am - 11:00 am
Monday, October 21, 2019, 9:00 am - 11:00 am
Tuesday, October 22, 2019, 9:00 am - 11:00 am
Wednesday, October 23, 2019, 9:00 am - 11:00 am
Thursday, October 24, 2019, 9:00 am - 11:00 am
Friday, October 25, 2019, 9:00 am - 11:00 am
Monday, October 28, 2019, 9:00 am - 11:00 am
Tuesday, October 29, 2019, 9:00 am - 11:00 am
Wednesday, October 30, 2019, 9:00 am - 11:00 am
Thursday, October 31, 2019, 9:00 am - 11:00 am
Friday, November 1, 2019, 9:00 am - 11:00 am
Monday, November 4, 2019, 9:00 am - 11:00 am
Tuesday, November 5, 2019, 9:00 am - 11:00 am
Wednesday, November 6, 2019, 9:00 am - 11:00 am
Thursday, November 7, 2019, 9:00 am - 11:00 am
Friday, November 8, 2019, 9:00 am - 11:00 am
Monday, November 11, 2019, 9:00 am - 11:00 am
Tuesday, November 12, 2019, 9:00 am - 11:00 am
Wednesday, November 13, 2019, 9:00 am - 11:00 am
Thursday, November 14, 2019, 9:00 am - 11:00 am
Friday, November 15, 2019, 9:00 am - 11:00 am
Monday, November 18, 2019, 9:00 am - 11:00 am
Tuesday, November 19, 2019, 9:00 am - 11:00 am
Wednesday, November 20, 2019, 9:00 am - 11:00 am
Thursday, November 21, 2019, 9:00 am - 11:00 am
Friday, November 22, 2019, 9:00 am - 11:00 am
Monday, November 25, 2019, 9:00 am - 11:00 am
Tuesday, November 26, 2019, 9:00 am - 11:00 am
Wednesday, November 27, 2019, 9:00 am - 11:00 am
Thursday, November 28, 2019, 9:00 am - 11:00 am
Friday, November 29, 2019, 9:00 am - 11:00 am
Monday, December 2, 2019, 9:00 am - 11:00 am
Tuesday, December 3, 2019, 9:00 am - 11:00 am
Wednesday, December 4, 2019, 9:00 am - 11:00 am
Thursday, December 5, 2019, 9:00 am - 11:00 am
Friday, December 6, 2019, 9:00 am - 11:00 am
Monday, December 9, 2019, 9:00 am - 11:00 am
Tuesday, December 10, 2019, 9:00 am - 11:00 am
Wednesday, December 11, 2019, 9:00 am - 11:00 am
Thursday, December 12, 2019, 9:00 am - 11:00 am
Friday, December 13, 2019, 9:00 am - 11:00 am
Monday, December 16, 2019, 9:00 am - 11:00 am
Tuesday, December 17, 2019, 9:00 am - 11:00 am
Wednesday, December 18, 2019, 9:00 am - 11:00 am
Thursday, December 19, 2019, 9:00 am - 11:00 am
Friday, December 20, 2019, 9:00 am - 11:00 am
Monday, December 23, 2019, 9:00 am - 11:00 am
Tuesday, December 24, 2019, 9:00 am - 11:00 am
Wednesday, December 25, 2019, 9:00 am - 11:00 am
Thursday, December 26, 2019, 9:00 am - 11:00 am
Friday, December 27, 2019, 9:00 am - 11:00 am
Monday, December 30, 2019, 9:00 am - 11:00 am
Tuesday, December 31, 2019, 9:00 am - 11:00 am
Wednesday, January 1, 2020, 9:00 am - 11:00 am
Thursday, January 2, 2020, 9:00 am - 11:00 am
Friday, January 3, 2020, 9:00 am - 11:00 am
Monday, January 6, 2020, 9:00 am - 11:00 am
Tuesday, January 7, 2020, 9:00 am - 11:00 am
Wednesday, January 8, 2020, 9:00 am - 11:00 am
Thursday, January 9, 2020, 9:00 am - 11:00 am
Friday, January 10, 2020, 9:00 am - 11:00 am
Monday, January 13, 2020, 9:00 am - 11:00 am
Tuesday, January 14, 2020, 9:00 am - 11:00 am
Wednesday, January 15, 2020, 9:00 am - 11:00 am
Thursday, January 16, 2020, 9:00 am - 11:00 am
Friday, January 17, 2020, 9:00 am - 11:00 am
Monday, January 20, 2020, 9:00 am - 11:00 am
Tuesday, January 21, 2020, 9:00 am - 11:00 am
Wednesday, January 22, 2020, 9:00 am - 11:00 am
Thursday, January 23, 2020, 9:00 am - 11:00 am
Friday, January 24, 2020, 9:00 am - 11:00 am
Monday, January 27, 2020, 9:00 am - 11:00 am
Tuesday, January 28, 2020, 9:00 am - 11:00 am
Wednesday, January 29, 2020, 9:00 am - 11:00 am
Thursday, January 30, 2020, 9:00 am - 11:00 am
Friday, January 31, 2020, 9:00 am - 11:00 am

Map
Osage Centre
1625 N kingshighway cape girardeau mo 63701